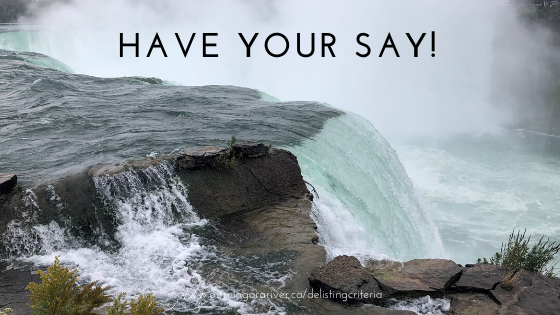 The Niagara River Remedial Action Plan (RAP) Team is updating the criteria used to assess the condition of the Niagara River's water quality and ecosystem health. We are looking for your input on these important changes.
To track progress and identify challenges, the RAP Team uses a suite of ecosystem indicators which were identified in the Canada-U.S. Great Lakes Water Quality Agreement (called beneficial use impairments or BUIs). When the Niagara River was first listed as an Area of Concern in the 1980s, there were 10 indicators that were impaired or required further assessment. Through the ongoing efforts of many partners over the last three decades, the Niagara River has made significant progress. As of 2019, there are only 5 impaired indicators remaining.
The last time a review of the delisting criteria was conducted was in 2007 through the process of completing the Niagara River RAP Stage 2 Update Report in 2009. The proposed updated criteria that are being released in 2019-2020 will replace the previous criteria and will be used for all future BUI status assessments.
The proposed revisions are being made to: align the criteria with the geographic scope of the Niagara River Area of Concern, reflect the most recent scientific information available, ensure criteria are specific, measurable and feasible, and align the criteria with the scope of the Great Lakes Water Quality Agreement. A summary document for each BUI provides background information and describes the revisions being proposed including the process undertaken and rationale for the changes.
The proposed updated criteria are released as they become available and posted to our website for 45 days. Once the review period is over, comments will no longer be accepted but the documents will remain posted for your information.
Make sure to check back again or follow us on social media or sign-up for our newsletter for the latest news!
Degradation of Wildlife Populations (24-August-20 to 8-October-20; comments now closed)
Loss of Fish and Wildlife Habitat (8-JUNE-20 to 23-JULY-20; comments now closed)
Restrictions on Fish Consumption (20-MAR-20 to 4-MAY-20; comments now closed)
Degradation of Benthos (23-Mar-20 to 7-May-20; comments now closed)
Beach Closings (posted 17-DEC-19 to 31-JAN-20; comments now closed)
Degradation of Fish Populations (posted 6-FEB-20 to 23-MAR-20; comments now closed)