Significant progress has been made in the Niagara River Area of Concern (AOC) since the Remedial Action Plan (RAP) process was first started in 1987. Successes achieved over the past 30 years include significant improvements in water quality, and the clean-up of contaminated sediments.
The Niagara River offers several ecological, recreational and economic beneficial water uses such as power generation, tourism, recreation, is a source of drinking water, and supports over 1200 species (see Niagara River Ecology). When something interferes with the enjoyment of a water use, it's called a beneficial use impairment or BUI. There are 14 potential BUIs identified in the GLWQA (common to all AOCs) that the RAP Team uses to focus restoration needs, track progress and report on success.
When taken together, the status of all of the BUIs tell us the overall condition of the Niagara River AOC. For the Ontario side of the AOC, there are currently 6 BUIs that are deemed impaired (red) and 8 that are not impaired (green). The image below gives us a visual representation of the condition on the Niagara River (Ontario) AOC: still impaired but improving as more of the indicators fall to the green side of the scale.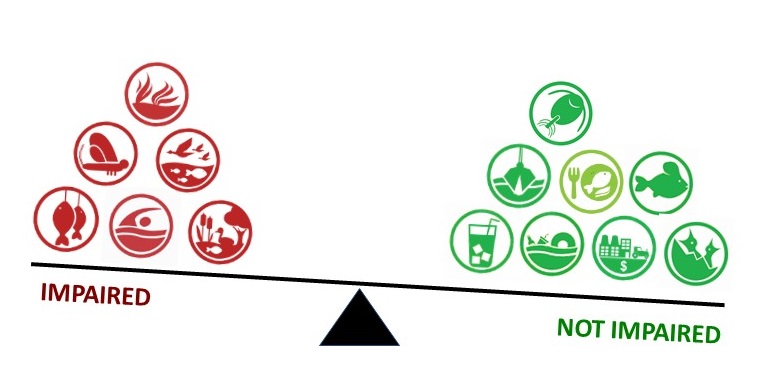 Our goal is to complete actions that will restore the beneficial water uses. Once the required actions are complete for an individual BUI, it is assessed against locally-defined goals. If it meets the criteria then the RAP initiates a re-designation process by which the status of the BUI can be changed (i.e., from impaired to not impaired).
The designation of AOC can be removed (referred to as delisting) when all actions are completed and environmental monitoring confirms that beneficial uses have been restored in accordance with the locally-established RAP criteria. The final decision to delist the Niagara River (Ontario) AOC is made by federal, provincial, and local RAP participants (including the public), with advice from the International Joint Commission.
What are the remaining BUIs?
The RAP partnership is working together to implement projects for the restoration, monitoring, and/or assessment of the remaining BUIs. Click on the link below to learn what we've completed and what's left to do.