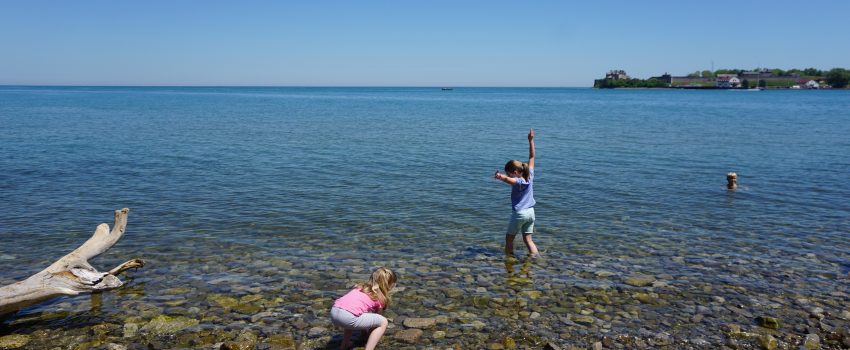 The Niagara Peninsula Conservation Authority (NPCA) and its partners working on the Niagara River Remedial Action Plan (RAP) program have reached an important environmental milestone. The 'Beach Closings' Beneficial Use Impairment (BUI), used by the RAP program to indicate water quality issues caused by human sources of bacterial pollution, has officially been declared 'not impaired'.
In March 2023, the NPCA received correspondence from Environment and Climate Change Canada officially confirming the re-designation of this water quality indicator in the Niagara River. The status change is a tremendous achievement for the entire region and highlights what can be achieved through collaboration, focused study, and remediation efforts to improve environmental conditions.
Since the early 1990s, water quality problems due to stormwater impacted recreational swimming at Queen's Royal Beach in the Town of Niagara-on-the-Lake— the only public swimming beach on the Canadian side of the Niagara River. To address issues at the beach, the NPCA, Niagara-on-the-Lake, and other RAP partners with federal and provincial funding support, led extensive water quality monitoring, microbial source tracking studies, storm sewer investigations, and implementation of remedial actions that have resulted in significant water quality improvements.
An assessment report completed in 2021 summarized key findings showing the improved water quality and recommended the status change. The NPCA sought feedback on the recommendation from the community, Indigenous partners, and U.S. RAP representatives through comprehensive outreach efforts from June 2021 to May 2022. Support for the status change was received before submitting its recommendation to the governments of Canada and Ontario for final approval and removal of the BUI.
This news brings the Niagara River RAP partners one step closer to delisting the Niagara River, but there is more work to be done. Progress continues to be made on implementing priority actions to restore four remaining impairments related to fish consumption, sediment quality, habitat, and fish and wildlife populations. Stay tuned to our social media channels, e-newsletter, and check our website to find out more.
---