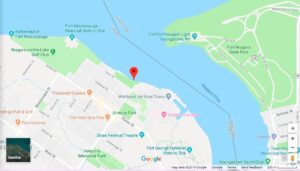 Queen's Royal Beach, located in the Town of Niagara-on-the-Lake at the foot of King Street (map), is the only public swimming beach on the Niagara River. The Niagara River Remedial Action Plan uses beach water quality as an indicator of the overall health of the Niagara River, as part of its goal to restore water quality and ecosystem health and thus remove it from the list of the Great Lakes Areas of Concern.
Thanks to the RAP partners including the NPCA, Town of Niagara-on-the-Lake, Niagara Region, and Federal and Provincial Government and several partners, many actions to address water quality concerns that impacted the beach are now complete and the beach is swimmable! As of March 2023, the Beach Closings Beneficial Use Impairment (BUI) is officially changed to 'Not Impaired' in the Niagara River. The BUI status change is a tremendous achievement for the entire region and signals improved environmental conditions thanks to many collaborative actions. Learn more here.
Since 2018, the Town of Niagara-on-the-Lake collects water samples three times per week to monitor bacterial water quality at the beach during the swimming season (May to September). The samples are analyzed and shared by the Niagara River Public Health Unit.
Keep yourself healthy!
Even if the beach results show it's safe for swimming, there are conditions (weather, number of swimmers, wildlife, high wind/waves, cloudy water) that can cause bacteria levels to rise. Conditions at the beach can change over the days between beach sampling.
Bacteria in the water or sand can make you sick (ear, nose, or throat infections and diarrhea if ingested). There are ways to protect yourself from getting sick, including:
Avoiding swimming if it has rained in the past 24-48 hours;
Do not swallow the water;
Wash your hands before eating if you've gone swimming or played in the beach sand;
Avoid swimming where there are a lot of geese or other wildlife present;
Do not go swimming if the water is cloudy.
Learn more
Contact the Town of Niagara-on-the-Lake for more information: www.notl.org/queensroyalbeach or 905-468-3266. Learn about other Niagara Region beaches here or check out the Swim Guide to get the latest results for thousands of beaches.