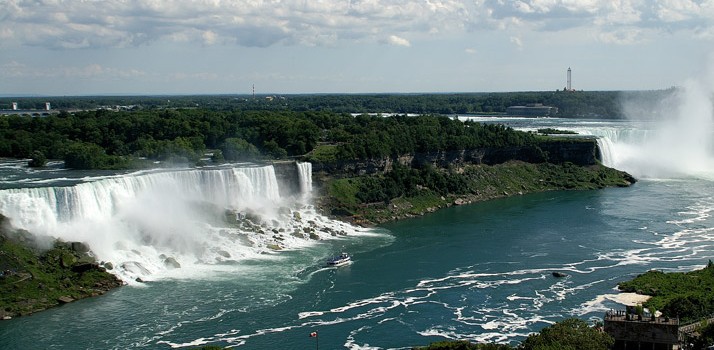 On February 27, 1950,  the Treaty between Canada and the United States of America Concerning the Diversion of the Niagara River was signed to ensure the preservation and enhancement of the scenic beauty of Niagara Falls and the Niagara River, while providing for the most beneficial use of the river waters.
Flow Rates
The Treaty establishes minimum amount of water that must flow over the Niagara Falls for scenic purposes and sets priorities for other water uses (e.g., hydro power generation, domestic/sanitary purposes, navigation). The combined flow over the Horseshoe Falls and American Falls cannot be less than 2,832 m3/s (100,000 ft3/s) between 8 AM- 10 PM during the summer months (April 1 -Sept. 15) and 8AM – 8PM from Sept. 16-Oct. 31. The flow over the Falls at any other time of the year is set at no less than 1,416 m3/s (50,000 ft3/s).
Controlling Flow and Sharing Excess Water
The flow over the Falls is controlled through a structure approx. 0.8 KM upstream of the Horseshoe Falls that spans the Niagara River from the Canadian shoreline to a point a little over halfway across the river. The structure (called the International Niagara Control Works) is operated by the Power Entities (Ontario Power Generation and New York Power Authority).
Excess water over those Falls flow minimums is equally split between both Countries and can be used for hydroelectric power generation.
The International Niagara Committee, consisting of a representative from each Country, fulfills the following functions:
determine and record the amounts of water available for the purpose of the treaty;
record the amounts of water taken from the Niagara River and Welland Ship Canal for hydro-electric power generation by both countries;
ensure that the amount of water flowing over Niagara Falls meets the requirements specified in the treaty;
investigate, explain, and report on the causes of any treaty violations;
to inspect the power plants to ensure accurate determination of water diversions.
Information for this post was compiled from the following sources: Government of Canada and the International Joint Commission