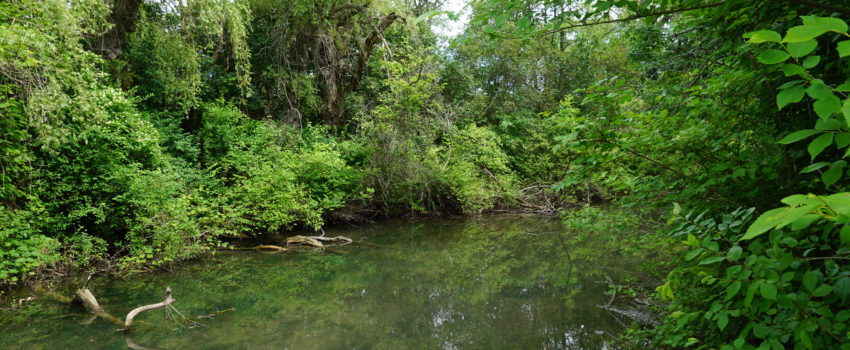 In June 2019, researchers from the Ontario Ministry of Environment, Conservation and Parks (MECP) and Environment and Climate Change Canada (ECCC) coordinated their efforts to collect sediment, and bottom-dwelling aquatic invertebrates (invertebrates include many groups of organisms such as crayfish, insects and worms also called benthos or benthic invertebrates), from a portion of Lyons Creek East, located in Welland, Ontario. Lyons Creek East is one of two remaining locations identified (Lyons Creek West is the second) that requires long-term monitoring as part of the Niagara River Remedial Action Plan (RAP).
The Niagara River RAP uses several ecological indicators to determine the health of the Niagara River ecosystem related to historical sediment or water quality-related problems. The information gathered from long-term monitoring of Lyons Creek East is intended to confirm the progress of natural recovery and burial of contaminated sediments by cleaner sediments, as well as determine/measure the reduction of risk to the organisms that can uptake contaminants.
What information was collected and why?
Sediment
Toxic chemicals such as polychlorinated biphenyls (PCBs), polycyclic aromatic hydrocarbons (PAHs) and metals can be found in the sediment at the bottom of lakes, rivers, and creeks due to pollution from human activities. Chemicals such as these are analysed in sediment samples because they can pose an ecological and human health risk as they accumulate in bottom-dwelling aquatic organisms which have direct contact with contaminated sediments and move up through the food chain as the benthos are eaten by fish and aquatic birds.
Specific to Lyons Creek East, PCBs are the chemicals of concern. Scientists recently collected sediment core samples to measure the levels of PCBs at various depths in zones 1 & 2 (Fig. 1) to confirm the status of progress towards monitored natural recovery and confirm there aren't any issues that could affect progress.
Benthos
Benthic invertebrates generally live in the top layer of sediment at the bottom of rivers, lakes and creeks and are an important part of the food chain as a source of food for fish and aquatic birds. Unlike fish and wildlife, benthos have limited mobility and cannot easily move to other locations so they are good indicators of local sediment conditions. These bottom-dwelling invertebrates can tell us about the potential risk of pollution that may impact ecological and human health. Also, some benthos species can tolerate living in polluted sediments (e.g., aquatic worms, midge larvae) while others are very sensitive to pollution (e.g., caddisflies, stoneflies, and mayflies). The presence of sensitive benthic invertebrates is indicative of good water and sediment quality.
Scientists from ECCC collected benthic invertebrate (amphipod) samples from the bottom of Lyons Creek East at the same locations as the sediment samples (described above). The amphipod samples were analyzed to examine tissue PCB concentrations to tell us about the transfer of contaminants from the sediments to the invertebrates. The information is also used to understand contaminant trends over time and update scientific models to help quantify ecological risk up the food chain.

Fish & Wildlife
Chemicals such as PCBs can accumulate in fish tissue and move up the food chain when fish are eaten by aquatic wildlife and/or humans. Collecting and analyzing concentrations of PCBs in young-of-the-year fish from Lyons Creek East is a means of validating the scientific biomagnification model and provides evidence of whether there is actual PCB bioaccumulation in organisms higher up in the food chain.
Scientists from ECCC are collecting information about the levels of PCBs in snapping turtle eggs and MECP scientists will be collecting and analyzing fish tissue to find out if levels are decreasing in organisms higher in the food chain.
Lyons Creek East
Lyons Creek East is part of the Welland River watershed and is located east of the Welland Canal By-pass in Welland, Ontario. Lyons Creek was separated into east and west sections during the construction of the Welland Canal By-pass in the 1970s. A pumping station was installed at the canal to maintain a steady flow of water to the east creek to make up for the loss of headwater flow. Lyons Creek East is comprised of a series of broad marshy pond areas, intersected by roads and rails, and incorporates Provincially-Significant Wetland areas that provide habitat, biodiversity, groundwater storage, etc. This area contains some important species-at-risk and rare plants.
What are the chemicals of concern?
A portion of Lyons Creek East? near the Welland Canal was found to be contaminated with PCBs in the 1990s. Historically, PCBs were used as coolants and lubricants for industrial equipment. Since 1977, PCBs are no longer produced in North America but they can still be found in the environment as they do not break down easily. Long-term contact with high levels of PCBs have been linked to cancer in humans; however, current information suggests that low levels of PCBs are not likely to cause health problems but people that eat large amounts of certain fish have an increased risk of possible health effects (Health Canada 2006).
Brief overview of activities at Lyons Creek East
1990: Presence of PCBs first detected after a transformer spill west of the Welland Canal By-pass (Lyons Creek West). During the cleanup, older PCB contamination is detected in Lyons Creek east of the Welland Canal with concentrations decreasing with increasing distance downstream.
1993: The Niagara River Remedial Action Plan (Stage 1) identifies fourteen potentially contaminated sites in the Canadian portion of the Niagara River watershed. The sites are prioritized into three categories (level 1, 2 & 3) with Level-1 sites being those with known contamination requiring remediation. All of the level 2 and 3 sites are shown to have little to no risk to living organisms (humans and wildlife) and no further action required. Lyons Creek (east and west) are noted as Level-1 sites.
1991-1998: Ontario Ministry of Environment conducts sediment sampling which identifies the contaminated area in Lyons Creek East and further notes zones of impact from high to low, moving downstream.
2007: Study indicates low risk of ecological health impacts associated with contaminated sediment on Great Blue Heron, Belted Kingfisher, and Mink.
2007: A survey of surrounding residents shows there was no evidence of direct contact with the sediment by humans and that the consumption of fish from Lyons Creek is minimal.
2007: The public is consulted on the sediment management options for Lyons Creek East. The selected option was Monitored Natural Recovery which leaves the contaminated sediment in place to prevent re-suspension.
2008-2016: A multi-agency Administrative Controls Protocol is in place to restrict any activity that could disturb the contaminated sediment.
2015: To establish the Lyons Creek Long-term Monitoring Plan, scientists collaborate on collecting sediment core samples, benthic invertebrate samples and fish tissue from seven zones (extending 5.5 KM) within Lyons Creek to assess current PCB contamination and compare with past study results to measure changes in contamination through time.
2019: Scientists collaborate on collecting various samples including sediment core samples, benthic invertebrate samples, fish tissue, and snapping turtle eggs for evidence of PCB contamination to compare to past study results.
Want to know more?
All of the related Lyons Creek are available in our online Document Library  (simply type Lyons Creek in the library search bar)
Learn about PCBs: https://www.canada.ca/en/health-canada/services/healthy-living/your-health/environment/pcbs.html
Find out more about the RAP
Contact us for more information: info@ourniagarariver.ca or 905-788-3135 x243