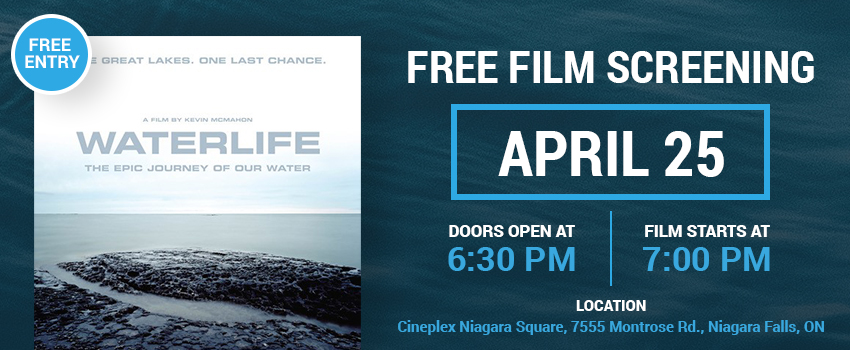 SOLD OUT! Over 200 seats have been reserved for this event. If you're still interested in attending, you can be added to a wait list using the link below. We will only contact you if a seat becomes available. Thank you for your interest!
Join the Niagara River (Ontario) Remedial Action Plan partnership  for a FREE screening of Waterlife on Wednesday, April 25, 2018. Admission is FREE but pre-registration is REQUIRED. Doors open at 6:30 PM, the film starts at 7 PM. A special Q&A session with the film's Director, Kevin McMahon, will take place immediately following the film. View the event poster
Waterlife is a documentary film about the Great Lakes that follows the flow of the lakes' water from the Nipigon River to the Atlantic Ocean. From the icy cliffs of Lake Superior to the ornate fountains of Chicago to the sewers of Windsor, this feature-length documentary tells the story of the last huge supply (20 per cent) of fresh water on Earth. The source of drinking water, fish and emotional sustenance for 35 million people, the Great Lakes are under assault by toxins, sewage, invasive species, dropping water levels and profound apathy. The film takes viewers on a tour of an incredibly beautiful ecosystem that is facing complex challenges. Narrated by The Tragically Hip's Gord Downie and filled with stunning imagery, Waterlife is an epic cinematic poem about the beauty of water and the dangers of taking it for granted.
Click here to register using a mobile device
For more information, contact
Natalie Green
at 905-933-4634 or ngreen@npca.ca