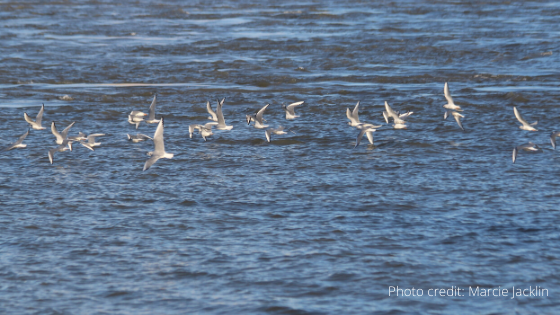 What is an IBA?
It's an Important Bird and Biodiversity Area! The IBA program aims to identify, monitor, and protect the world's most important sites for birds. Globally there are over 12,000 IBAs making it the largest network of sites for biodiversity. In Canada, approximately 600 IBAs were identified in the late 1990s, with at least one species that triggered each site. These 'trigger species' meet one of two criteria:
Hosting large numbers of birds: 1% of the global or continental population (such as waterfowl, shorebirds, and gulls).
Threatened species: listed either globally (IUCN Red List) or nationally (COSEWIC), such as Loggerhead Shrike and Piping Plover.
Niagara River birds
The most emblematic 'trigger species' of the Niagara River Corridor IBA is the Bonaparte's Gull. This tiny, tern-like gull winters along the coasts of North America and the Great Lakes, and breeds in the secluded boreal forest (they are the only gull that regularly nests in trees). Population trends are tough to monitor for Bonaparte's Gulls; therefore, monitoring at key concentration sites is important. One such site is the Niagara River Corridor IBA where up to 25% of the population is estimated to pass through in the fall and early winter! Eighteen other gull species have been recorded on the Niagara River Corridor IBA, some in significant numbers, including Herring, Ring-billed, and Little Gulls. Waterfowl are also abundant on the river, and species like Greater Scaup and Red-breasted Mergansers occasionally reach 1% of their North American population.
How do we get IBA bird numbers?
Fortunately, there are several monitoring programs that track gulls and waterfowl species on the river. One such count is the annual Niagara River Corridor IBA gull census. The Caretakers (on-the-ground stewards) Bob and Jean from Peninsula Field Naturalists Club, coordinate this survey. As of 2019, the census is in its sixth season, making the data they collect the beginning of a very meaningful long-term set. The IBA Protocol for eBird provides the ability to reliably combine multiple checklists from the same day, resulting in a more accurate picture of the entire IBA. To share an example, an individual checklist reported 3,200 Bonaparte's Gull – an already impressive count. However, combining all 35 checklists from the day, gave a total of 12,801 Bonaparte's Gulls, over 3% of their global population in just one November morning!
Conservation work
It's not all about birds; it's about greater biodiversity and conservation, too! There's a new group in the Niagara Region, and they are focused on pursuing actions that will enhance nature and peoples' connectedness with it. This group includes Birds Canada, nature clubs in the region, Niagara Parks Commission, and the Conservation Authority, many of whom already do conservation work in the IBA. The group will collaborate on conservation-themed events and activities in the coming years. Stay tuned!
Other IBAs in the Niagara Region
The Niagara Region contains four other IBAs, different in habitat and trigger species (see map below). Beamer Conservation Area is known for large numbers of migrating raptors, such as Turkey Vultures and Red-shouldered Hawks. Twelve Mile Headwaters, and Port Abino boast diverse forests and species-at-risk like the Acadian Flycatcher. Part of the West End of Lake Ontario IBA, known for large concentrations of waterfowl, is also in the Niagara Region.
Volunteer in an IBA
If you are new to IBAs and want more information about the program or would like to get involved, visit www.ibacanada.org. Want to volunteer in an IBA? Please contact the Ontario IBA Coordinator at ontarioiba@birdscanada.org. To see and share IBA stories and photos follow or like their Facebook group.
Written by: Amanda Bichel, Ontario IBA Coordinator