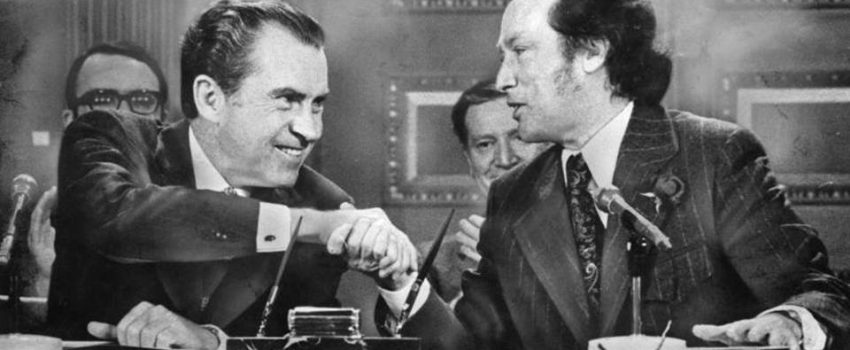 Imagine raw sewage floating by while you were fishing with your kids or hearing about entire rivers catching on fire. Imagine large fish kills linked to severe algal blooms and thinking an entire Great Lake was dying. Imagine hearing about bald eagle populations crashing. Perhaps you remember these moments. It wasn't long ago–only 50 years–since the Great Lakes were in such bad condition that important actions were needed to improve the way humans interact with their environment.Thanks to concerned citizens and various government and non-government organizations the Great Lakes have come a long way toward recovery–and continue to do so.
Beginning in the 1960s, public concern over the condition of the Great Lakes' ecosystem and human health became overwhelming. Action was needed. During that time the International Joint Commission, who oversees boundary water issues in Canada and the U.S., began exploring actions to improve water quality in the Great Lakes basin, particularly phosphorus levels from municipal and industrial sources. The findings of the study and its recommendations formed the basis of the very first Canada-U.S. Great Lakes Water Quality Agreement (GLWQA), signed in 1972 by President Richard Nixon and Prime Minister Pierre Trudeau. The Agreement committed both countries to working together to improve and restore the water quality in the Great Lakes System.
The 1972 Agreement set targets for the entire basin and focused on addressing and controlling industrial and municipal pollution. The GLWQA was replaced by a revised version in 1978 that built upon earlier commitments but incorporated new and emerging science. The 1978 Agreement shifted the focus from traditional pollutants (bacteria and phosphorus) to persistent toxic substances. It also took a more holistic ecosystem approach by incorporating interactions between air, land, water and living organisms (fish, wildlife and humans).
Amendments were made in 1983 to enhance phosphorus reductions throughout the basin. Scientists from both countries worked together to develop target phosphorus loads for each lake.
After an extensive review and considerable public consultation, the 1987 Protocol added several new programs and initiatives with the addition and revision of annexes, including one targeting cleanup of Areas of Concern through the development and implementation of Remedial Action Plans (RAPs) and Lakewide Management Plans. The RAP process that is still applied today was born out of this revision of the GLWQA. The 1987 Protocol also addressed pollution from land runoff and contaminated sediments, it added surveillance & monitoring programs, specific objectives for persistent toxic substance, contaminated groundwater and airborne toxic substances, and research coordination.
The latest revision by Protocol to the GLWQA occurred in 2012 to reaffirm both countries' commitment to restore and maintain the Waters of the Great Lakes. Through ten annexes, the GLWQA of 2012 aims to better identify and manage current environmental issues and prevent environmental threats before they cause harm. The revised annexes resulted in a separation of the RAP and Lakewide Management Plan programs, a focus on aquatic invasive species, habitat, climate change, and science (through coordination and collaboration of scientific efforts). One of the biggest changes to the GLWQA of 2012 was recognizing the importance of engagement from the public, various levels of government, and organizations (including state, provincial, Tribal, Métis, municipal, local public agencies, watershed management agencies). We all have a stake in the health of the Great Lakes.
The GLWQA continues to guide our efforts toward improving Great Lakes ecosystem health and is a great example of two countries working cooperatively for the same goal.
To learn more about the GLWQA and shared efforts for the Great Lakes or to get involved, visit binational.net.
Sources:
Binational.net
IJC.org