Using the information from the Guide to Eating Ontario Fish, we produced an easy-to-understand booklet with colour-coded symbols so you can quickly see which fish from the Niagara River are safe to eat. The following educational booklets and handouts will help you make the best choices for eating fish from the Niagara River.
Fishing is a fun way to get outdoors. Fish can be a nutritious part of a balanced diet. Eating fish provides an excellent source of protein, omega-3 fats, and other essential nutrients. However, depending on the type, size, and number of fish eaten, people may be at risk for eating harmful chemicals in the fish they eat.
The Niagara River's water quality has improved over the last 30 years but there are still some chemicals in water that can collect in fish such as mercury, polychlorinated biphenyls (PCBs), dioxins/furan, and photomirex. A fish with contaminants may not taste, look, or smell different than a fish that is not polluted. Chemicals are too small to see with the human eye and they can build up in certain parts of the fish that you can avoid eating (like the skin, fat, and organs). That's why it's so important to follow this advice for choosing, preparing, and eating fish.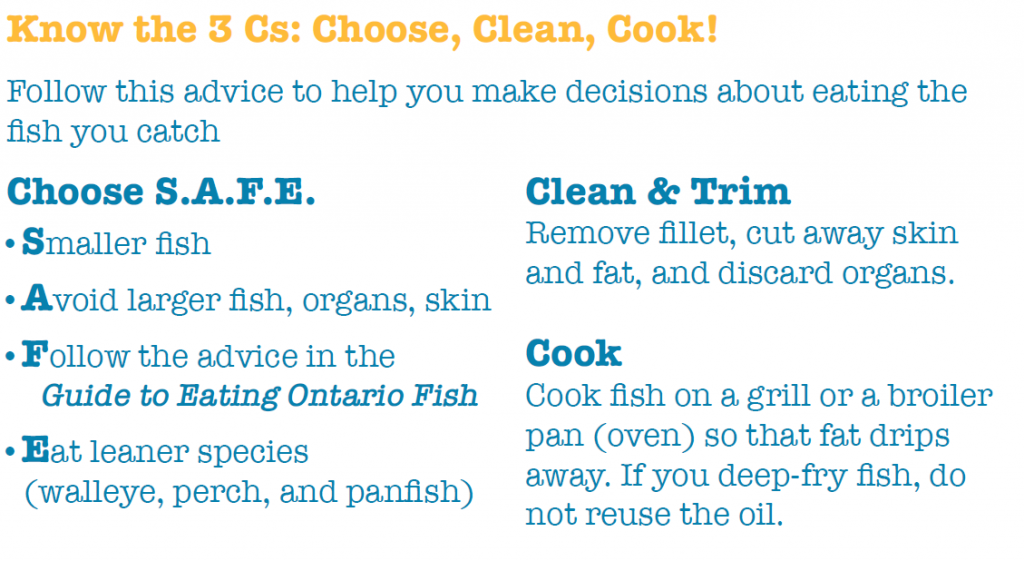 You can reduce your risk of eating chemicals by following the 3Cs…

Advice for how much fish you can safely eat depends on your gender, age, and weight as well as the where you caught the fish, the type of fish you plan to eat and its size.
The information in the 'Eat Safe: Fish Niagara River' booklet is based on the Guide to Eating Ontario Fish. The booklet is for educational purposes only and was not endorsed by the government. Please refer to the Guide to Eating Ontario Fish for more detailed information about the Niagara River and other locations throughout Ontario. You can also contact the Fish Contaminant Monitoring Program at 1-800-820-2716 or fishguide@ontario.ca.